Reading Time:
13
minutes
What are ways to increase productivity? What is your go-to productivity trick? I'll be answering the first question and hoping that you answer the second one… in the comments… at the bottom of this page. Thanks, girl!
I won't pretend like I'm the most productive businesswoman in the world. 'Cause frankly, I'm not.
But I definitely know more than a thing or two about being a productive boss babe. As in a goal-getter girl boss.
Whether you work at home or in an office, staying productive can truly be a challenge. Instagram, Facebook, Pinterest, and YouTube are some major time-stealers if you don't keep them in check.
Let's be real– you're going to check your social media feeds at some point in the day. But it's figuring out when and how to do that that'll help you revamp your work routine.
The first step in creating a productive work routine is freeing up what my pilates instructor calls a "monkey mind." The following video was made for children but bear through it.
If you want your mind to stop racing from one thing to the next, you'll need to cultivate a happy panda mind. As in a positive, peaceful mindset that focuses on one thing at a time.
How else are you going to do your best at your tasks? Before we get into the productivity hacks, let's talk about what productivity even is.
Because lord knows the media has been known to call working yourself to the point of insanity "productivity". And that's by no means what it is.
What is productivity? And what does a "productive work routine" look like?
A quick Google search will tell you that productivity is "the state or quality of producing something, especially crops." That sounds just a wee bit odd though.
I like Psychology Today's definition best. Productivity generally refers to the ability of an individual, team, or organization to work efficiently within that time in order to maximize output."
Long story short; it's achieving more in less time. That is, without sacrificing quality.
Consider productivity the opposite of procrastination and you'll be smooth sailing.
Now on to the good stuff.
10 hacks for a productive work routine
Get a planner!!!
How original right? I wouldn't put such a basic productivity hack in this list if it wasn't essential.
If you don't have a planner, what are you doing friend? Like seriously — what? I genuinely want to know.
Some people can afford to live their life wholly intuitively. Or what I like to call "on the edge".
But YOU. You're a businesswoman. You can't afford to not be organized. Especially if you're a business owner or entrepreneur.
Writing down your plans instantly relieves a measure of stress. Writing down your goals is a sure-fire way to more quickly reach them.
There's a reason that so many people swear by writing stuff down to manifest it. The idea of writing down your goal in detail is to go back to it repeatedly and remind yourself of the goal you want to manifest.
Goal planning or not though, you should at least be planning out your day.
And no, you don't have to plan out everything. I'm a huge advocate for living somewhat intuitively. Things are just a bit more exciting when you do them spontaneously.
But when it comes to your work routine, you gotta write that shiggedy down.
A little to-do list goes a long way.
As someone who does a lot of work for my personal business, I like to write around 3 tasks down daily. Such a reasonable goal doesn't overhwlem me and it even leaves space to get more done if I'm feeling up to it.
That's right– working intuitively is a solopreneur's best productivity hack for sane living. I didn't write down that I'd be writing this blog post today but here I am.
Let's talk about your planning options.
There are digital planners, paper planners, and apps.
I'm a huge fan of bullet journals (a form of paper planner)… but a huge advocate for digital planners.
You can carry digital planners wherever you go– and most are multi-platform. So you can write your to-do list down on your laptop and then view it on your phone while you're at the grocery store.
In my opinion, digital planners are typically more exciting than apps. They're offer more room for creativity and free-handing your plans, goals, and dreams.
Check out why you should start a digital planner if you want to learn more on both how and why you should.
If you're new to the concept, you're not alone.
As a newbie to digital planning, your best bet is a guided digital planner.
With pages already made for you to fill in, you won't have to worry about building your planner from the ground up. Plus you'll be able to focus more on getting creative with your planner.
Most digital planners are pretty cheap and of great quality. Including this rose gold-themed boss babe digital planner! This planner was carefully crafted by yours truly.
It contains 81 pages that are absolutely perfect for boss babes, businesswomen, and entrepreneurs. Pages include:
Weekly spreads
Monthly Spreads
Financial Trackers
Goal Trackers
Business pages
Personal pages (water log, fitness tracker, self care, etc.)
And more!
You won't be disappointed. Use code CULTUREDSIMPLICITY20 for 20% off.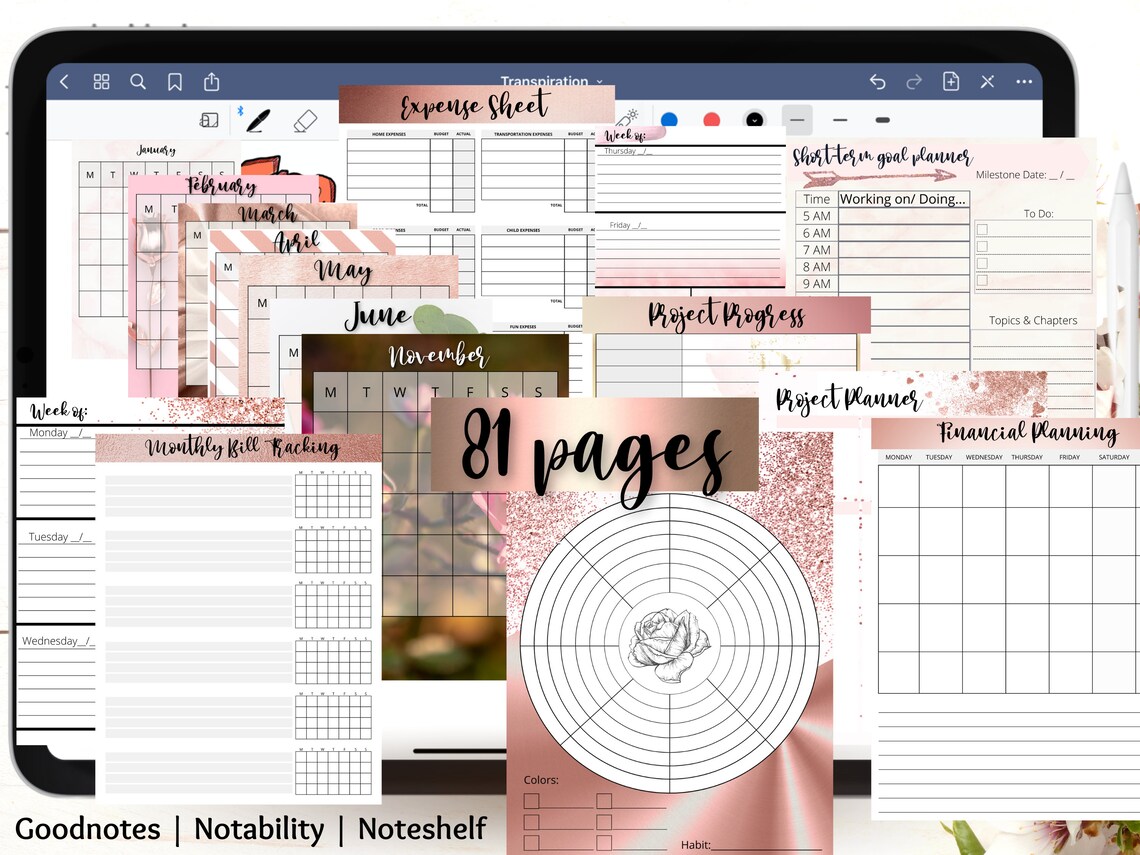 You can also snag yourself some free planning pages and digital stickers when you join my email community.
I strongly suggest downloading Goodnotes, Notability, or OneNote for your digital planner.
If you'd prefer to use an app, Todoist and Google Calendar are both my top picks.
And if you'd like to stick with good 'ole paper, I absolutely love the bullet journals at Michaels. Although, Hobby Lobby is a close second.
2. Set yourself a specific range of time to get something done
If you typically take 2 hours to get a certain task done, try giving yourself an hour and a half.
Instead of spontaneously starting and going through the motions for the next two hours:
Set a specific time you're going to start
Set a specific time you're going to finish
Stick with it
If you haven't noticed, humans naturally work to fill up the time.
If you work all the way up to 5 and sitll find yourself scrambling to get things done at the last minute, you may think "huh, I'm glad I didn't take those 15 extra minutes at lunch. I clearly wouldn't have had time to do that and still finish all of this… given I didn't take it and still haven't finished."
But you're fooling yourself.
You work to fill up the time you have laid out. So even if you don't notice it, you're working at a slightly slower pace when you give yourself more time.
Either that or you try to get more done than you bargained for when it seems like time will allow it.
You want to keep your mind on the task at hand. And giving yourself less time will "force" you to work with a tinge of productive urgency.
3. "Templatizing" your newly productive work routine
There's nothing that more quickly forms a productive work routine than templates.
When you have pre-laid out "guides" for your major work tasks, you cut the time you take in two. Give or take.
A template is any kind of a preset format for a document, file, or function.
Templates are used so that the format does not have to be recreated each time it is used.
Do you find yourself writing lots of emails? Create a template.
Find yourself posting often on Instagram or Facebook? Create a template for the captions (being sure to include all 30 hashtags).
Write articles often. Create a template.
If there's a work function that a template can be created for… then by all means, create it.
If you have a personal online brand, check out my branding bundle templates.
My fully editable 112-piece bundle, has:
1 Business Card Template (Front & Back)
1 Price List Template
50 Instagram Flyer Templates (Also usable on Facebook)
50 Instagram Story Flyer Templates (also usable on Facebook) – these designs are the same as the IG posts but resized for IG stories
5 Instagram Highlight covers
1 Blog Banner (also usable on LinkedIn)
A Thank you note
1 "Leave a review" note
1 Facebook cover
Rose Gold social media icons
Crafted for your convenience and an aesthetic online presence.
If you post often on Instagram or Facebook, these pre-made templates really can't be beaten.
4. Movement breaks
Nothing quite solidifies a productive work routine like movement breaks.
Sitting at a desk for hours on end it's good for your physical or mental health.
Moving your legs a bit is likely all it'll take to get you out of a slump.
Especially if that movement is outside. Nothing like some good vitamin D to brighten your day.
I don't care if anyone says differently. Once you start taking care of yourself, taking care of your work becomes that much easier.
Exercise raises your energy levels, combats stress, battles fatigue and improves general well-being. When you feel happier and energized you're more efficient and effective at all tasks in life.
5. Start your newly productive work routine (and day) strong
You probably already know the power of a good morning routine.
There's nothing that screams boss babe more than getting up and actually having time to take care of yourself.
If you wake up and get something done, it'll set the whole day up on the right track. Yes, even if it's just making your day.
But chances are, you already know that. And if we're being real, morning routines are dang hard to change.
But the start of your daily work routine? Not so much.
With just a few changes, you can have the most productive work routine ever. And I'm not even being dramatic.
If you're able to get a meditation or workout done in the morning, that's absolutely fabulous. But those things will only get you so far. It's what you do after you start working, or rather "clock in", that counts.
You could mindlessly through your email or social pages for the first few quiet moments of the workday. Or you could go in swinging. As in tackling your to-do list from the get-go. Your biggest task even. 'Cause why the heck not?
Once you get the ball rolling, it'll be easy to keep going. As Sir Isaac Newton said, what's in motion tends to stay in motion.
Before you know it, you'll be non-stop grinding all the way up to lunch. And this mentality even applies to your weekly routine. If you're able to get a big task done on Monday, do it. Don't wait around to get something done that could've been done yesterday.
Get started. Get it done. And thrive off that momentum.
6. Keeping a task dump
That brain of yours can only store so much. And as much as we may try to deny it, it can store a whole lot less than we think it can. I'm not saying you're not smart, my friend. 'Cause you are indeed an intelligent queen.
But there's no need to test your mind's capacity when you don't have to.
Throughout the day, your greatest asset is an ongoing list of all the mess you need to remember. And mess you need to get done.
The notes app on your phone is perfectly fine for doing this.
Particularly as an entrepreneur or business owner, you often come up with your own 'due dates'. So when a new task comes up you can't necessarily jot it down in your planner either because:
you don't have a date to mark it down on yet
or your planner isn't convenient to pull up quickly
Time is of the essence for a truly productive work routine. So it should take you about 5 seconds to get our your dump list.
You can transfer your tasks to a "prettier" more organized surface later. But for now something quick and within immediate reach will do. And who knows– you may even be able to get the tasks done before the end of the workday. So you won't have to transfer them to your planner anyway.
A task dump is also perfect for jotting down new ideas and brainstorming. Writing something down as soon as it enters your mind guarantees you won't forget it. Inspiration is all around us so you have to grasp it as it comes.
7. If it takes less than 60 seconds, do it now
This applies to tasks that you know will take less than 60 seconds. Not tasks that you think will take less than 60 seconds.
A productive work routine is not founded on a guessing game. It's founded on your knowledge of how much you can get done in a set period of time.
But why should you finish tasks that take less than a minute? There's really no point right? Wrong.
Completing the little things gives you the momentum to tackle and crush big tasks.
If you couldn't even get up to throw your takeout box away, how are you supposed to write a whole report? You can't just let your 'laziness' pick and choose. Oddly enough, it has a way of penetrating through everything once you let it grab a hold of one thing.
Trust me. It's the little tasks that'll really get your work motivation going.
Boss babes have a trash-free desk and a made bed at home. Two things that take less than 60 seconds but are felt for hours. Come on, tell me I'm wrong.
8. SKIP the nap breaks and just go to bed early
There are two main reasons why I'm not a fan of nap breaks.
They throw you off your game. A.K.A your active working mindset.
You never really know when you'll wake up feeling refreshed, sluggish, or even more tired.
It's really easy to slip into a midday nap. But it can be a whole lot harder to "recover" from one. You have to get your mind re-situated– which is a whole process you wouldn't have to deal with if you just went to bed earlier.
Plus the science behind naps is a bit complicated. A nap that's less than 10 minutes does virtually nothing for most people.
A 10-minute nap is some people's sweet spot while it leaves others straight up mad.
I've heard some researchers say that 20 minutes is generally your best bet for rejuvenation without grogginess. But then I've heard others say that naps of that length up to 30 minutes lead to confusion and sleep inertia. So yes, you very well could wake up feeling worse than when you started.
But hey, if you're a napper, who am I to get in the way of that?
All I can tell you is to find your sweet spot. Don't sleep for too long and don't sleep for too short. Although a shorter nap is typically "better" than a longer nap.
Setting a timer for 20 minutes has worked for me on numerous occasions in the past. So if you're going to take one, I'd say take it during the first 20 minutes of your lunch hour. Don't forget the timer.
9. Keep caffeine on hand (hear me out here)
I'm well aware that caffeine is not the healthiest way to keep your body energized for years on end. Once again, that's a good night of sleep.
But caffeine is definitely a solid-proof last (or second) resort. I've known plenty of businesswomen that seemingly shape their productive work routine around coffee.
If you hit a midday slump there's nothing like caffeine to get you going.
Sometimes, you simply can't afford to be tired. You don't have the time to be dragging your feet.
If caffeine is going to give you that extra boost you need, then go for it. However, don't be afraid to diversify your caffeine sources. Coffee is great. But so are caffeinated black tea and green tea. There are even some mild energy drinks and bars that you can try.
I personally love PureBoost's energy drink sticks and Verb Energy bars. They're affordable, good for you, and don't lead to an energy crash later on.
Of course, don't develop an unhealthy reliance on caffeine.
For healthy adults, the FDA has cited 400 milligrams a day—that's about four or five cups of coffee—as an amount not generally associated with dangerous, negative effects.
I try to limit myself to 30 to 200 milligrams per day, but to each her own.
10. Instead of the Pomodoro or 52 17 method, just work and take breaks intuitively
If you're at all familiar with "modern student" culture in America, then you've probably heard of the pomodoro technique.
The Pomodoro Technique is a time management method developed by Francesco Cirillo in the late 1980s. The technique uses a timer to break down work into intervals, traditionally 25 minutes in length, separated by short breaks. (Wikipedia)
So generally, you take a 5-minute break at the end of every 30-minute period.
Yes, this method works like a charm for a lot of people. Breaks have a naturally rejuvenating effect.
This technique even has a "desk time variation" called the rule of 52 and 17. According to this rule, the most productive people work for 52 minutes at a time, then break for 17 minutes before getting back to it.
However, I'm sure you can see why I'm telling you to work intuitively instead.
As appealing as 5 or 17 minute breaks may sound, they're little more than a waste of time if you're not actually mentally fatiguing yet.
If you're actually getting tired, take the break. Don't take it just cause the click is telling you it's time to though.
If you take adequate lunch and bathroom breaks, you'll probably be just fine working consistently for a few hours.
Take advantage of your productivity potential while you're in "work mode".
A productive work routine starts with pushing your expectations.
Not to the point of insanity. Just to the point where you would make the old, less productive you a bit uncomfortable.
There's a reason people say nothing good ever comes from the comfort zone. (although that's debatable)
11. An organized and 'set up for productivity' desk space
New office supplies always get me excited. I just got a new home desk and office chair, and I'm floating on cloud nine.
There's a chance that your limited supplies are limiting your productivity. There's nothing like a dull pencil to dim my work desire.
Here are a few office essentials that are guaranteed to boost your productivity. And if you don't like them– just return them friend.
39-Piece Office Supplies Set, Office Stationery Set
The stationery set contains 15 categories and 50 products, including pen holders, pens, notes, staplers, staple removers, scissors, utility knives, tape, paper clips, etc., which can meet the daily needs of offices and schools.
Rose Gold Letter Tray – 4 Tier Desk File Organizer
Get more productive with clutter free desktop, this rose gold desk tray is great to organize your documents, letters, files, folders, mail and much more.
Monitor Stand Riser with Drawer
Best ergonomics for head and shoulder posture and viewing. Raise your monitor by 4.7″. A better healthy sitting position which helps reduce neck and back ache and relieve eye Strain; enhancing work efficiency.
Conclusion + Next steps for your productive work routine
Before you go, check out these three things you HAVE to stop doing for an inclusive company culture!
For a regular dose of advice crafted for businesswomen and minorities, join the Cultured Simplicity community. Free planning pages and digital stickers coming your way!
Let's create our perfectly productive work routine together.
Also, keep up with me on Instagram and Pinterest! Make sure you pin or bookmark this page for later reference.
I'll see you around.