Reading Time:
8
minutes
The first modern equal employment legislation was introduced in Congress in 1943.
In 1948, President Truman signed Executive Order 9981 to desegregate the armed services which some scholars cite as the first diversity initiative in the workplace.
That right there is pretty much the entirety of diversity initiatives in the U.S. prior to the 1950s.
The world's increasing globalization now requires more interaction among people from diverse cultures, beliefs, and backgrounds than ever before.
An overview of the factors that lead to diversity in the workplace:
Racial and Ethnical Groups
Older Workers
Gender
Education
Dual-Career Families
Religion and Culture
Persons with Disabilities
Immigrants
Young Individuals with limited skills and education
Competitive Advantage with a diverse workforce
Marketing
Innovation, Creativity and Problem Solving
Diversity in the workplace through the years
Diversity in the workplace – 1960s
The March on Washington may be the most commemorated event in the history of the civil rights struggle in the United States. On August 28, 1963, in front of 250,000 demonstrators who packed the Mall between the Lincoln and Washington monuments, the Rev. Martin Luther King Jr. delivered his "I have a dream" speech.
King and his fellow marchers presented a far-reaching agenda for change, highlighting the intertwined problems of racial and economic inequality in the United States. This agenda was encapsulated in the full title of the event, "The March on Washington for Jobs and Freedom."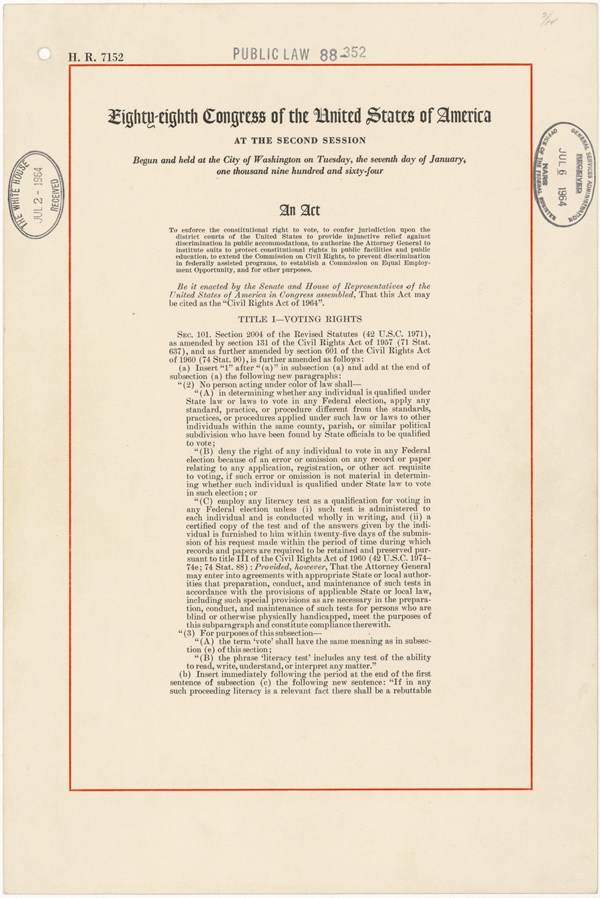 Many of the March on Washington demands were met in the landmark Civil Rights Act of 1964, pushed through a reluctant Congress by President Lyndon B. Johnson.
The Civil Rights Act of 1964:
banned segregation in public accommodations
encouraged the desegregation of public schools,
Forbade employment discrimination on the basis of race, sex, religion, or national origin
Interview (with my grandmother born in 1941)
Q. How effective do you remember MLK's freedom march being? Were reforms for appearance only?
A. I had never really given it much thought, you know, personally. Most people who participated in it and gave full support… thought it was very effective.
I remember through the years that different avenues of employment seemed that they resulted for people of color. And more freedom to be able to use resources while traveling like restaurants and hotels and so forth.
Q. One of the most significant impacts of MLK's freedom march was the Civil Rights Act of 1964. How did this act change things for African Americans?
A. I think, probably, it gave them more freedom to speak out for things they were passionate about. To speak up for matters of concern that were not addressed as easily. Matters of concern they were not accustomed to speaking up for.
Q. Do you remember it being hard for you to get a job?
A. I think Jim Crow's foot still had a hold on our necks. It was easier for me to get a job at that time because I was in a situation that was not so much governed by people who were racist. I was working at Talladega college in Alabama, which is an HBCU. It wasn't hard for me because there I was at that time. I enjoyed it. I worked there for two years. After, I was at home being a housewife. That lasted from about 1966 to 1971. Once I re-entered the workforce it was a little bit easier to get a job that I really wanted. I started out for $1.75 an hour and it advanced from that point.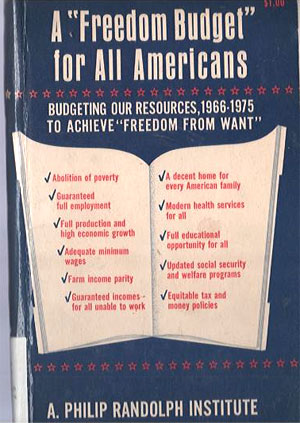 The Civil Rights Act of 1964 promised to lower discriminatory barriers to employment, but it did not address one of the major demands of the March on Washington: job creation.
However, a group of prominent economists, labor unionists, and civil rights leaders drafted a Freedom Budget, released in October 1966.
The budget called for job creation programs to eliminate unemployment; a guaranteed annual income for poor families; and increased federal spending to eradicate slums, improve schools, and build public works.
Despite wide support, the Freedom Budget lost in the "guns versus butter" struggle of the Vietnam War and met with indifference at best from Congress.
Diversity in the workplace – 1970s
The Equal Employment Opportunity Act of 1972 is a United States federal law that amended Title VII of the Civil Rights Act of 1964 to address employment discrimination against African Americans and other minorities.
Requires that no applicant or employee may be rejected from employment or treated unfairly solely because of:
race
religion
color
national origin
sex
The law requires that the most competent applicants be hired and the most competent employees be promoted.
Diversity in the workplace – 1980s
Fullilove v. Klutznick, 448 U.S. 448 (1980), was a case in which the United States Supreme Court held that the U.S. Congress could constitutionally use its spending power to remedy past discrimination.
The case arose as a suit against the enforcement of provisions in a 1977 spending bill that required 10% of federal funds going towards public works programs to go to minority-owned companies.
Diversity in the workplace – 1990
Published in the New York Times on October 7, 1990, was an interview with Jack K. Hasegawa, an authority on racism, both by inclination and by birth.
A fourth-generation Japanese-American whose parents were interned during World War II, he said that he has been told more than once:
"You seem like a nice guy, but I still remember Pearl Harbor."
Q. Does modern racism differ from historic racism?
A. We used to say that old-style racism was explicitly built into the law, that is, it was permissible by statute, and it was marked by violence.
Modern racism was marked by its subtlety. It's no longer carried in law. But modern racism now has gone beyond what was passive and subtle, when you really had to look to find it.
In the last couple of years, we've seen an enormous increase in violence against people of color and also an increase in explicit verbal racial harassments.
Diversity in the workplace – 1992
On April 22, 1922, the newspaper article "American business can compete by learning to value diversity" was published by PR Newswire.
Following the Industrial Revolution, the decline of manufacturing and the shift to a service economy, many workers and their bosses grapple with increasing uncertainty, making it more and more difficult for people, whose differences were once tolerable, to barely get along.

    The implications of this growing intolerance for diversity in the workplace pose a serious threat to American business, which already is reeling from the freewheeling spending of the 80s, and the heavy debt that has forced unprecedented layoffs and countless corporate restructurings.

    "I've spent more than 22 years studying corporate America and issues related to handling diversity and I can tell you I've never seen a more critical situation than exists now," he said.

    "Because of the labor shortage and the need for workers with better education and more complex skills, corporate America will find it increasingly difficult to attract enough qualified workers to fill jobs. The problem will be aggravated because the population will be made up increasingly of African- and Hispanic-Americans whose education, in general, is not what it should be."

    Fernandez said over the next 10 years there will be a total of 21 million new jobs in the United States, primarily in the service sector. And while jobs requiring college degrees will increase from 22 to 30 percent by the year 2000, 80 percent of recent college graduates cannot read at an 11th grade level.
"This, coupled with an increase in minorities and women entering and staying in the workforce, points to the critical need to manage, educate, train and retain workers with different cultural and ethnic backgrounds."
Diversity in the workplace 2000s-2010s
The 2000s – Gender the main focus
By late 1999 and early 2000, women's participation in the US workforce reached an all-time peak. At this point, 60% of women were in employment. This has remained relatively consistent in the two decades since with 2018 stats showing that 57.1% of women were in the workplace.
Recruitment practices changed with female candidates given equal opportunities for the majority of roles.
However, despite this focus on gender diversity throughout the decade, women still remained underrepresented at board level.
2010s
In this decade the US workforce was made up of 60% non-hispanic white people while 17% were hispanic and 12% were African Americans. Interestingly though, 17% of the workforce consisted of foreign-born immigrants of which a large percentage were Asians. This was the most culturally diverse workforce the US had ever seen and it also coincided with one of the most productive periods in the nation's history in terms of both technology and innovation.
Employers were quick to realize that cultural diversity in the workplace brought significant benefits. And so recruitment practices were once again tweaked to appeal to a more ethnically diverse talent pool.
BIG Tech Companies… still lots of room for diversity
Here are some 2019 infographics to feed your thought.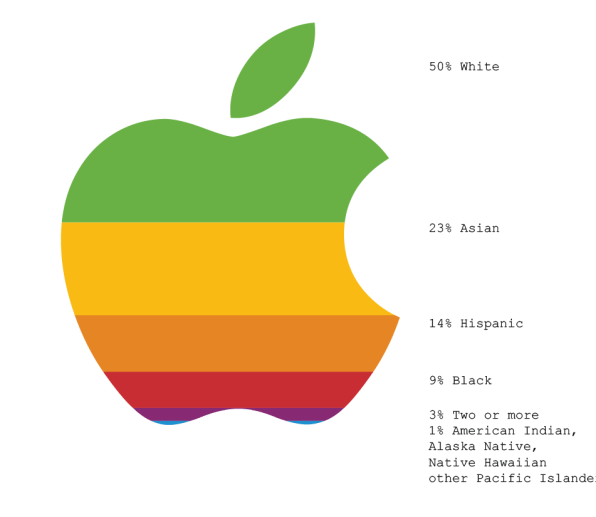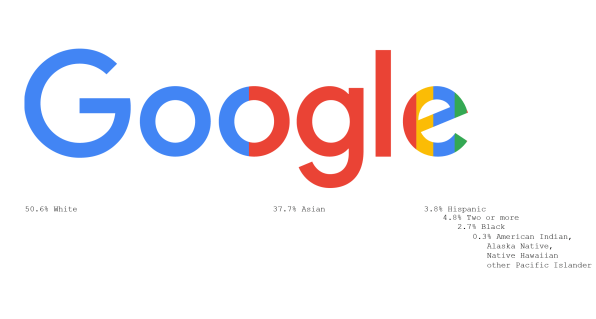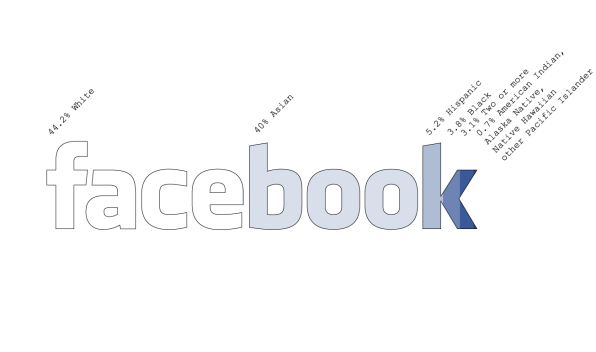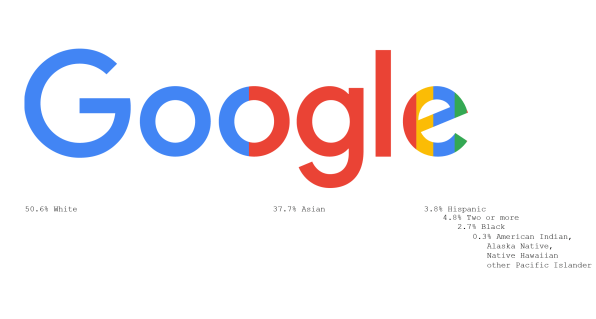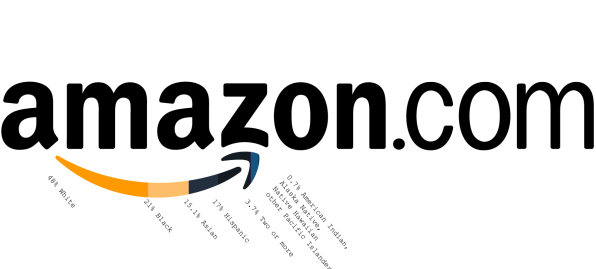 Diversity in the workplace – 2020s
"Diversity and inclusion, now with the addition of equity, (D&I or DEI) has morphed, grown and changed significantly over time. It's been a true evolution, and a long-time focus for most large US companies, yet we still see only 25% of women in C-suite positions among the top 1,000 US companies (by revenue), and there are only three (3) black CEOs running Fortune 500 companies. Beyond representation, the even more critical factor, in terms of business impact, is inclusion and the effect it can have on generating business results." – Stacey Williams, Account Director at Waterhouse Brands
Millennials and members of Gen-Z have played a big role in leading the charge for increased diversity, says Ashish Kaushal, cofounder of Consciously Unbiased, an organization that helps companies hire diverse talent.
Now comprising a majority of the U.S. labor force, employees from these generations are holding company leaders accountable and demanding cultural transformations that seem truly authentic to them.
Companies in the U.S. spend about $8 billion a year on diversity training, but the efficacy of such programs has yielded mixed results.
According to data from human resources consulting company Mercer, 64% of workers in entry level positions are white. In the top executive ranks, however, 85% of positions are held by whites, demonstrating the promotion gap that minorities face. And women and minorities continue to under-earn white male colleagues, according to the Economic Policy Institute.
Citations:
Morris, Gitta. "CONNECTICUT Q&A: JACK K. HASEGAWA; Fighting Racism, Subtle and Not So Subtle." New York Times, 7 Oct. 1990. Gale In Context: Biography, link.gale.com/apps/doc/A175591880/GPS?u=nclivewtcc&sid=GPS&xid=5ea56476. Accessed 7 May 2021.
"AMERICAN BUSINESS CAN COMPETE BY LEARNING TO VALUE DIVERSITY." PR Newswire, 22 Apr. 1992, p. 0422A1248. Gale In Context: Biography, link.gale.com/apps/doc/A12080502/GPS?u=nclivewtcc&sid=GPS&xid=24d60818. Accessed 7 May 2021.
https://www.epi.org/publication/introduction-unfinished-march/
https://www.ourdocuments.gov/doc.php?flash=false&doc=96#
https://www.archives.gov/education/lessons/civil-rights-act
https://www.fastcompany.com/90428465/see-big-techs-terrible-diversity-record-visualized-using-its-logos
https://www.vsource.io/blog/evolution-of-diversity-in-the-workplace#:~:text=By%20the%202000s%2C%20employers%20had,for%20the%20majority%20of%20roles.
https://hbr.org/2016/07/why-diversity-programs-fail
https://www.forbes.com/sites/ruthumoh/2019/12/23/a-decade-of-diversity-highs-and-lows/?sh=6d2ecea37d48
https://www.cnbc.com/2020/06/11/companies-are-making-bold-promises-about-greater-diversity-theres-a-long-way-to-go.html
https://www.linkedin.com/pulse/evolution-diversity-workplace-stacey-williams/