Reading Time:
8
minutes
Whether you work from home or in an office, forming a daily work routine that you love is a challenging feat. If you've ever wondered: "What is an ideal daily routine," then you're in the right place.
Although I can't tell you exactly what your ideal daily work routine looks like… I can tell you what tools are the most sure-fire ways to get there.
These somewhat minor additions to your life are absolute game changers for working. If you regularly work on the computer, you'll love these tools even more.
You deserve a daily work routine that you love. A daily work routine that you're proud of.
So here are 10 tools that'll get you started.
10 game-changing daily work routine tools
Some of these tools are digital. And some are physical. But they're all valuable additions to any work routine. Seriously.
Digital planner
A digital planner can be exactly like a paper planner or bullet journal. I'm talking identical.
It was the digital planner snapshot below by Plan a Healthy Life that completely sold me on the idea.
I mean, seriously, how nifty is this?
Advantages to keeping a digital planner include:
You can carry it with you wherever (and view it whenever)
Most are multi-platform accessible (phone, iPad, computer, etc…)
No worrying about messy handwriting
You can use any font you like
No color printer necessary to add ✨aesthetic✨ photos from the internet (which can be a real pain for bullet journal users)
You can keep your planner tab open throughout the day and add to it as needed
Sometimes you can add hyperlinks
You can rearrange and move around elements freely (without messy eraser marks)
Confused on how to get started? Check out this article on How to start a digital planner for boss babes.
This 81-page digital planner is a must-have addition to any businesswoman's stash. Plus its rose-gold theme is hard to pass up on.
It includes weekly spreads, monthly spreads, yearly spreads, goals pages, trackers, financial planners, social media trackers, and more.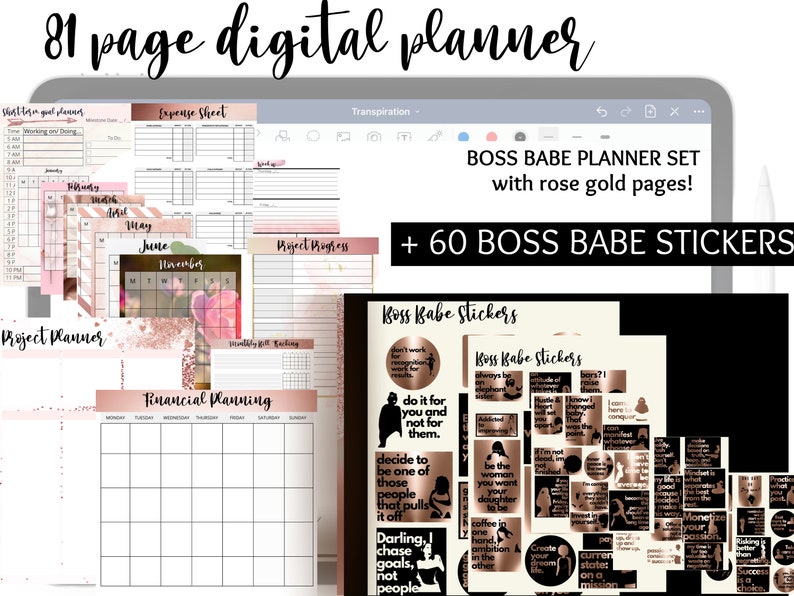 Chances are you've heard of Fiverr. After all, it is the world's largest marketplace for digital services.
But more importantly, it's a one-stop-shop for all those pesky tasks you don't have time for. Or don't have the expertise for.
You can buy a freelancing service for as low as $5. Seriously, where else can you do that?
I'm talking promotional pieces, data entry, social posts, logo design, website design, and more. A lot more.
If you have a bit of extra cash, why not reinvest it in your business? Save time for the more important tasks while still producing top-quality pieces. Or, you know, having professionals produce them for you.
Fiverr's popular professional services include:
This is another daily work routine tool that's less tangible but all the more valuable. If you can spend a few minutes every day on an edx course, your professional skillset will explode.
edX is one of the most most trusted platform for education and learning.
Founded by Harvard and MIT, edX is home to:
more than 20 million learners
the majority of top-ranked universities in the world
and industry-leading companies
Offering 2000 online courses from 140 leading institutions, edX helps people:
Gain new skills
Advance their careers
Or learn for fun
They offer courses in:
computer programming
data science
business
finance
marketing
engineering
language
humanities
science
and more
And one more perk I know will students will love? Almost all courses on edX are free to try.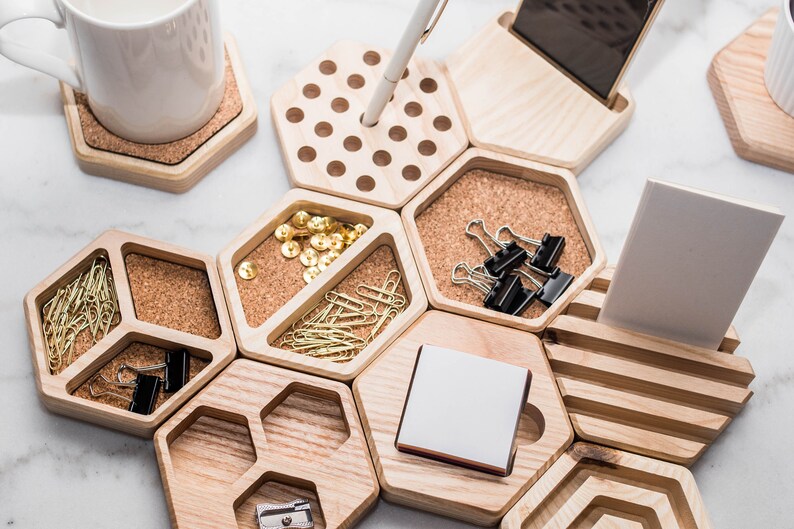 How's this beauty as an addition to your daily work routine? This honeycomb style desk organizer is insanely convenient for people who work at a desk.
This wood desk organizer is 10 centimeters in diameter. The workmanship is perfect and this item looks exactly as pictured.
It's able to hold:
pens
pencils
highlighters
paperclips
sticky notes
tacks
paper holders
and more
And yes, there's even a coaster for your coffee mug.
Made out of memory foam, this lumbar pillow is a desk sitter's dream. If you're sick and tired of your back hurting like you're ninety years old, listen up.
This lumbar pillow is ergonomically designed to support your lower back. Which translates into immediate proper posture.
It'll help relieve relieve upper, mid, and lower back pain, as well as back tightness.
Unlike other lumbar support pillows, this product is designed with curve and waist embracing design.
At the risk of sounding dramatic, this is one of the best products ever made. (Just read the reviews!) If I could carry this baby in my handbag, I would. In the meantime, I'll be transporting it back and forth between my home office and vehicle.
A Branding Bundle
A branding bundle is a collection of digital, printed, or physical resources used to create a uniform image of a brand. It consists of separate branded items united with the same style and ideas.
Long story short: branding bundles are serious time-savers.
Pre-made branding bundles are even more so. All you have to do is edit the text on beautiful graphics or prints designed for you.
The largest branding bundle in my Etsy shop contains:
1 Business Card Template (Front & Back)
A Price List Template
50 Instagram Flyer Templates (Also usable on Facebook)
50 Instagram Story Flyer Templates (also usable on Facebook) – these designs are the same as the IG posts but resized for IG stories
5 Instagram Highlight covers
A Blog Banner (also usable on LinkedIn)
1 Thank you note
A "Leave a review" note
1 Facebook cover
Rose Gold social media icons
If you're not interested in a pre-made branding bundle, then definitely include some of the things listed above in the bundle you create.
The items you create can then be used as both templates and permanent pieces.
Did someone say aesthetic brand image in minimal time?? Make it once. Use it forever. Now that's what I like to hear.
There's nothing that upgrades a daily work routine quite like an ergonomic workspace. You get to work in consistent comfort.
This laptop stand can be your first step in that direction.
The slim compact stand elevates your laptop by 6-inch to a perfect eye level. This prevents you from hunching over your screen, which reduces neck and shoulder pain.
It'll even keep your laptop cool. Which is helpful for most us, who don't even notice that our laptop is overheating.
As one reviewer remarked, sometimes the most brilliantly engineered products are the simplest. This is certainly the case here.
Though on the surface this looks like a very simple product, you can tell that a lot of thought went into its design.
From an aesthetic standpoint, its gorgeous simplicity is the perfect complement to a Mac laptop or high-end aluminum PC. It even looks great sitting on the desk by itself.
Pretty much everyone knows that staring at a screen all day isn't good for our eyes. Unfortunately, that doesn't change the fact that staring at a screen is quite common in a daily work routine.
If you're sick of your eyes fatiguing, it's time to block out the main cause: blue light.
Chances are you don't even realize how much your eyes are straining throughout the day. Although it can cause some strong discomfort, it's pretty easy to ignore. Many people don't even realize how uncomfortable their eyes are until they try on a pair of blue light glasses.
These lenses are designed to filter out some of the blue light emitted from digital screens.
The blue light glasses pictured above are lightweight, stylish, and come in a pack of three.
If you work at a desk and need a reminder to get up and move around… this is the perfect app! It's not every day that you find a find daily work routine tool that'll also prolong your life (theoretically, of course.)
You can select how frequently you'd like to receive reminders, on what days, and where.
The snooze is a very nice feature too if you're not able to get up and move at the moment.
You can setup the Start and Stop time, set the interval time and days of the week, and it shows you at the top of the screen how many of the goal breaks you were able to hit.
A Today widget lets you see how long to your next reminder, and to skip or pause notifications.
TopResume is the world's top (ironic, I know) resume-writing service, analyzing millions of resumes and LinkedIn profiles each year.
Job seekers work directly with professional writers and industry experts to:
redefine their personal brand
stand out from the crowd during the job-search process
Your resume is one of your most important career tools, but many professionals (and especially students) have no idea on:
where to start
what to include
and what to leave off of their resumes
That's where TopResume comes in. They'll carefully craft your career story to target the job that you want to land.
A professional resume can make you 38% more likely to be contacted by recruiters. 31% more likely to land an interview. And 40% more likely to land a job. So, what are you waiting for?
Conclusion
So, what did we learn today? That the tools for an ideal daily work routine come in many forms.
The tools mentioned include:
Digital planners
Fiverr
Edx
Wooden Desk Organizers
Lumbar Back Pillows
Branding bundles
Laptop stands
Blue Light Glasses
Stand up! App
TopResume
But wait, there's more. You know the whats; now you need the hows.
So make sure you check out 10 productive work routine productivity hacks for businesswomen.
For a regular dose of advice crafted for businesswomen and minorities, join the Cultured Simplicity community. Free planning pages and digital stickers coming your way!
Let's create our perfectly productive work routine together.
Also, keep up with me on Instagram and Pinterest! Make sure you pin or bookmark this page for later reference.