Reading Time:
7
minutes
What should a self-care planner include? How do you use a self-care planner? What should go in a self-care journal? Is any form of wellness planner even worth the hassle?
I'll be answering all those questions and more in this article.
It seems that as each year goes by more and more people are taking up journaling and planning. However, whereas the majority of those hobbies used to be centered on one's entire life, now there are many, many subsets.
Nowadays, aside from a life planner/life journal, there are:
Self-care planners and self-care journals take the cake though in being the most all-in-one book for all people. You can fit all your gratitude prompts, reflective prompts, art discovery prompts, spiritual prompts, etc. in just one nifty space. If it has to do with your personal wellness, it can go in there.
Your self-care planner can be about so much more than just pampering. You can use it to welcome gratitude, growth, faith, beauty, compassion, and so much more into your life.
A journal with that much power is quite exciting. But that makes it all the more important that you don't use it wrong.
There's a reason that guided journals are so big; because they guide your mind in the direction that you want it to go. So if you want a guided self-care journal but you want more flexibility than the rigidity of a pre-bought one, read on.
Here are 10 pages/spreads that you need to include in your self-care planner. All these pages, plus many more, are included in my self-care planner bundle –> available here!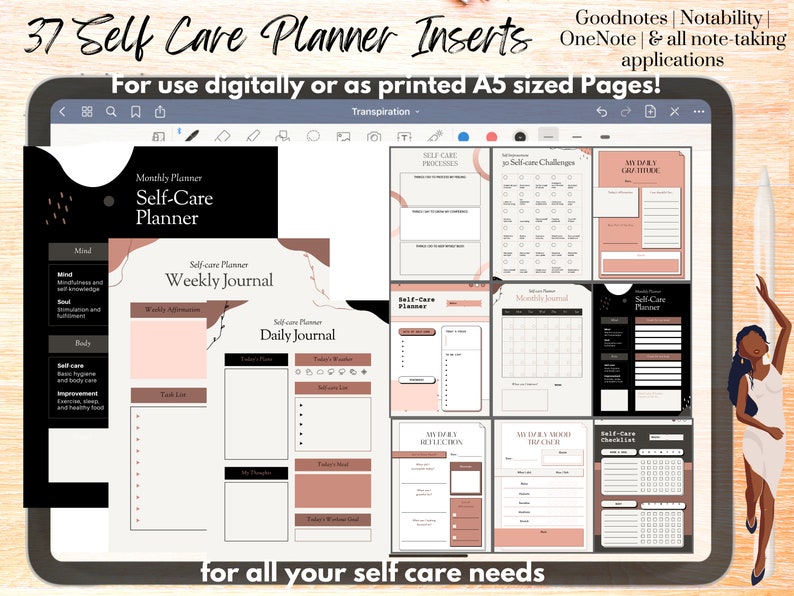 Essential pages you should include in a self-care planner
1. Weekly Review
Whether you use this template or design your weekly review, this page is a must in any self-care planner.
I'm a big advocate for looking forward rather than dwelling on the past. But the past is not something to be ignored. We should all make a regular habit out of reflecting on how certain things made us feel and why.
We need to celebrate our wins and acknowledge our losses. And why things were perceived as such.
A regular reflection practice will really help the weeks to not just "pass by". Each week is special, even if it doesn't always seem like such.
Taking the time to understand the last week's whirlwind of emotions, lessons, and opportunities can be monumental for your mental health.
2. Pamper Routine
There are far too many adults who don't give themselves enough pampering time.
In today's fast-paced society, it can be surprisingly tough to take time out of one's day to just decompress and take care of ourselves. And even if you do have the time, you may find yourself opting to watch TV shows or YouTube videos instead. But you're doing yourself a major disservice.
You deserve to be pampered. Your mind deserves to relax. Your skin deserves to be cleansed and nourished. I could go on and on, but chances are you already know these things.
Pampering doesn't seem as productive as other tasks, so it's easy to let it sit on the back-burner. It's easy to forget about it or constantly push it off. That's why a pampering routine page is so essential in your self-care planner.
When you actually plan out:
What you're going to do
When you're going to do it
And you're going to do it
You'll be a heck of a lot more likely to actually get it done. Make it a non-negotiable part of your week.
And don't forget to target both your physical and your mental wellbeing.
3. Self Reminder
It's amazing how easy it is to forget about the things that should matter to us. So don't even give yourself the opportunity to.
Start writing down your daily gratitude, things that make you happy, quotes that make you think, and other reminders.
Your body and soul need relaxation. You need positive affirmations and reminders.
Ideally, you should write these things down on a daily basis.
How else are you going to remember 24/7 that your life is the most beautiful one out there?
4. Gratitude Journal
Yes, gratitude is mentioned frequently in this article. I truly believe gratitude to be somewhere along the foundation of mental wellbeing– if not the foundation.
There are so so many studies out there that prove just impactful regular gratitude reflections are.
When you truly embrace the practice and treat it as a nightly habit, you'll realize just how much it'll improve your happiness, contentment, and sleep.
Notice that this spread is simple but it gets the job done. There's just enough space to really focus on the most important parts of your day that you're grateful for.
5. 30-day self-care challenge
There are few things more enjoyable than tackling your self-care goals in a bucket list format. Preferably on a monthly basis.
Why not use this 30-day challenge and/or create your own to motivate you to add a little self-care to each and every day?
You'll likely find yourself doing some very pleasant activities that you haven't done in a very long time.
Be it watching the sunset, watching the sunrise, getting a manicure, reading a good novel, etc.
6. Soul Stuff Notes
It's time to get all up close and personal with your soul.
And what better way to do that than writing down:
things to do when you're sad
things to when you're bored
what you're currently looking forward to
your favorite movies
fave books
and fave games
All these things can be used as a "crutch" when you're feeling out of it. When you're bored. Or when you've had a generally lousy day.
7. Self Affirmation
For those times when you're feeling less-than-confident, a self-affirmation page can really come in handy. Just whip out your self-care planner and remind yourself of just how capable and amazing you are.
In the form of daily affirmations, notes to yourself, quotes, and other motivational tidbits, you can truly revamp your entire mindset.
Allow this page to be the boost you need. Allow this page to train your inner monologue.
And if you find it hard to talk to yourself as you would to a best friend then allow this page to do that for you.
8. Mood tracker
Moods can be such fickle little things. "Things" used as a euphemism for what we really want to call them sometimes (particularly when it's someone else who's in one).
But there's nothing more invigorating than taking control of your moods, or at least recognizing them before they're fully upon you.
You can really learn some things about your inner self by tracking how felt when you:
woke up
ate breakfast
worked out
went to school or work
did chores
meditated
went to sleep
and all those other things you do during the day
You just may have your eyes opened,
Learning how to change your moods starts with tracking them.
9. Habit tracker
You want to take care of yourself? Then stop allowing yourself to be your own biggest enemy. Stop settling and accepting the status quo because you're scared of change or feel you're incapable.
You are more than capable of stopping your bad habits and starting up new good habits. You just have to take control and hold yourself accountable. What better way to do that than with a habit tracker?
Make filling in your success for the day part of your nightly ritual and you'll make sure you never forget to do it.
Whether you use check marks and X's, a color-coded system, or some other means, just make sure you're getting it done.
10. Dear my future self
I'm sure we all have some things that we wish we could tell to our past selves. But the sad truth is that we simply can't.
What we can do, however, is talk to our future selves. Especially considering we are constantly becoming our "future self" in the most literal definition of the word "future".
But if you'd rather move beyond the fact that your internal monologue a second ago was you talking to your present self which was then your future self… then you'll want to take a more long-term approach.
Writing down your hopes, dreams, and the kind of person you want to do can work wonders in making sure you actually accomplish those things. Use this letter to bear your heart to your future self.
Let them know what it is that you wanted. Let them know if they accomplished it or whether there's still more work to be done.
This is yet another way to hold yourself accountable. Which seems to be the general trend in a self-care planner.
Conclusion: 10 pages that should go in EVERY self-care planner / self care journal
Weekly review
Pamper routine
Self-reminder
Gratitude journal
30-day self-care challenge
Soul Stuff notes
Self-affirmation
Mood tracker
Habit tracker
Dear my future self
Once again, all these pages, plus many more, are included in my self-care planner bundle –> available here!
And I've heard that this bundle pairs perfectly with my Office Digital Planner Stickers.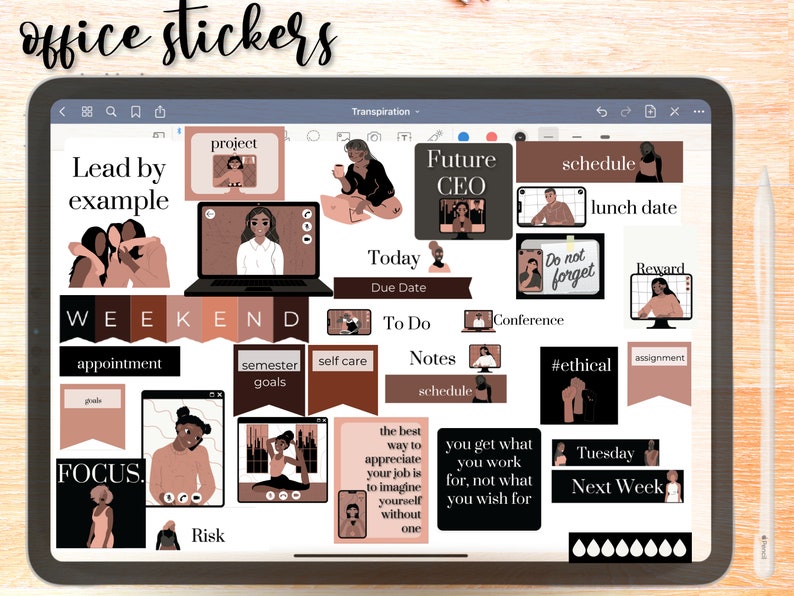 Before you go!
To get life-changing advice for boss babes and college students right in your inbox, join my email list! We'll all build our best lives together.
I can't wait to see you over there. But more importantly, I can't wait to see the glowing, confident, and woke person you're bound to become.
Also, keep up with me on Instagram and Pinterest! Make sure you pin or bookmark this page for later reference.
Before you head out, check out: