Reading Time:
10
minutes
Key takeaways from The Culture Map
After reading about all the unknown cultural barriers in The Culture Map by Erin Meyers, I feel like an all-star international business owner.
While it may initially seem that language is the biggest barrier for small business owners with big goals, cultural barriers are what you should actually be focusing on.
Here are 7 very specific cultural barriers that all small business owners should be aware of.
Especially if you're dealing with international partners or an international audience.
7 Cultural Barriers every small business owner NEEDS to know
Varying communication styles
The ability to communicate effectively varies widely from one nation to the next.
Americans speak directly, saying exactly what they intend and leaving no room for interpretation. Asian societies use implied communication, depending on receivers to read between the lines and accurately perceive the message.
The United States is a "low-context" society that values straightforward, transparent contact. "Tell them what you're about to tell them; then tell them; then tell them what you've taught them," is the American way.
The United States ranks at the bottom of the "Communicating scale" from low-context to high-context. Canada, Australia, the Netherlands, Germany, and the United Kingdom are slightly higher.
Japan has the most context-rich history, narrowly beating out Korea, Indonesia, and China. Italy, Spain, France, Mexico, and Brazil are in the centre. The British are less low-context than the Americans but still quite low on the scale.
Differences of culture are relative. And where civilizations share a language, "communicating through cultures" is challenging.
The overwhelming majority of multinational business executives have no knowledge of how culture affects their work.
What does this mean for you as a small business owner?
Be adaptable with your communication style while dealing with individuals with diverse cultural backgrounds.
Learn to "be more sensitive to body language signals" by paying attention, and asking open-ended questions.
Be straightforward and concise when dealing with people from a low-context community.
Speak with greater nuance (sophistication) when dealing with people from high-context societies.
Keep in mind that people communicate in their normal manner, without the intention to deceive, and you'll prevent communication issues.
Differences in feedback delivery
Managers in the United States are taught to balance constructive feedback with optimistic, encouraging words.
Their approach to indirect negative feedback is delicate, diplomatic, and confidential; these managers are cautious to include both positive and corrective feedback.
The French assessment form, on the other hand, is straightforward, with frank and truthful feedback that is not tempered by praise.
People used to the French form of assessment are likely to brush off the 'seemingly' minor negative comments from American employers.
Many embarrassing and expensive blunders can be avoided completely if managers take extra time upfront to discuss how they will assess subordinates.
The communication style of a society does not always correspond to its assessment philosophy.
Some nations, such as Israel, communicate in a high-context manner but provide direct negative feedback. The four-quadrant matrix formed by the two scales is:
Low-context and direct negative feedback
Low-context and indirect negative feedback
High-context and direct negative feedback
High-context and indirect negative feedback
What does this cultural barrier mean for you as a small business owner?
Each culture necessitates a unique approach. Confusion can be avoided by stating the communication and appraisal style upfront.
If you're in charge of a team that comes from a different cultural background than you, learn to adapt your persuasion techniques to your audience.
Just a little bit of research beforehand will tell you where your international employee falls on the 4-quadrant matrix.
And then you can deliver your assessments accordingly.
Persuasion methods (and effectiveness) greatly differ by country
"Principles-first" and "applications-first" reasoning forms are at opposite ends of the "Persuading scale." The reasons you should use to convince others are rooted in culture.
In certain countries, a presentation that works in one country might not work in another.
Principles-first reasoning establishes a hypothesis before presenting supporting evidence and conclusions.
Applications-first reasoning looks for trends or evidence in the real world first, then draws conclusions.
People from countries where morals come first, such as Russia, Italy, and France, want to know "why" before acting. People from countries where applications come first, such as the United States and Canada, are more concerned with "how" to accomplish an objective.
The more these contrasting sides converse with one another, the easier it becomes for them to adapt to one another – and the more they enjoy working together.
The majority of people use both strategies at different times and in different circumstances.
People are taught in the United States and other Anglo-Saxon cultures to interact as simply and directly as possible.
People from Asian cultures have "holistic" thought patterns, which vary from Westerners' "specific thinking," as per the "persuading scale."
Asians have a tendency for seeing things and people in relation to their surroundings, stressing how they communicate and interact. Western thinkers concentrate on an object or individual without regard for the surrounding world.
What does this cultural barrier mean for you as a small business owner?
It's important to adapt your persuasion approach to your target audience.
Focus on what you want them to do while giving a presentation to applications-first thinkers. Spend time setting the groundwork for principles-first thinkers before delivering the conclusion.
Detailed knowledge and guidance are well received by people from specific-thinking cultures. Paint the big picture before filling in the specifics to inspire people from holistic cultures; demonstrate how their work contributes to the whole.
Differences in team "power hierarchies"
"Power distance" is "the degree to which less powerful members of organizations agree and expect unequal power distribution."
Leadership, hierarchy, and control are all affected by power distance. It becomes apparent by the way a company distributes power, such as the relationship between managers and employees.
A few lines of clarification framing your decisions can make a huge difference in how they're viewed.
When Mexican Carlos Gomez went to Amsterdam to run a Dutch team, he was taken aback by the lack of respect the Dutch workers showed him. His upbringing in a hierarchical society had not prepared him for the way the Dutch treat everyone, including the supervisor, as an equal.
On the "Leading scale," the two poles are egalitarian and hierarchical. Mexico, like Japan, China, and India, is at the bottom of the leadership scale. Denmark, Sweden, and Israel are at the extremes of equality, while the United Kingdom and the United States are in the center.
Staff in egalitarian societies are free to disagree with their bosses without fear of retaliation. Employees behave independently and consult with people at various levels of authority.
On the contrary, it is inappropriate to challenge one's boss in hierarchical societies. Rather people wait for approval before acting and interacting via the proper channels.
What does this cultural barrier mean for you as a small business owner?
To not take offense.
More specifically, to politely make sure those from either kind of culture know how the power dynamic works in your company.
If someone comes from a stricter egalitarian culture, politely inform them that superiors are generally considered to be better-equipped at making business decisions. Which means that it's not necessary or even appropriate to question their choice. (Either sometimes or always, depending on your own culture.)
If someone comes from a stricter hierarchal culture, tell them that they're free to speak up in situations where they disagree with a superior. At least to the extent that is generally accepted in your own culture.
Big differences in decision-making
Consensual decision-making is valued in most egalitarian cultures, whereas top-down decision-making is valued in most hierarchical societies. There are several cultures that are outliers.
The United States has an egalitarian mentality when it comes to "who decides and how," but the individual in control makes the final decisions for the whole.
On the other hand, Germany is a hierarchical culture that makes decisions by mutual consent.
The process leading up to a decision in cultures that make decisions by consensus is lengthy, and everyone has a say. The decision made by the community is definitive and ready to be implemented.
In top-down societies, the boss makes a fast decision, but that decision is subject to change as new information becomes available.
The "Deciding scale" has two ends: "consensual" and "top-down." The consensual end of the spectrum includes Japan; the center includes the UK and the US; and the top-down end includes India, China, and Nigeria.
The ringi system in Japan values everyone's contribution and emphasizes peace.
Proposals circulate at lower levels, where employees express their thoughts and make changes. The changes gradually make their way up the ranks. Consequently, almost everybody has contributed to or agreed to the proposal by the time it hits high-level management.
Which, as you've probably seen in action, is quite different from "top-down" cultures.
What do these decision-making cultural barriers mean for you as a small business owner?
You need to make sure your team is clear on how decision-making is done in your company.
And to also:
not take offense when someone on the lower end of the hierarchy suggests a change. Chances are that's just how they do things in the culture they're originally from.
not become annoyed when employees rely on you to make decisions. It simply may be disrespectful to do otherwise in the culture that they come from.
"To confront or not to confront"
People differ in their approaches to debating ideas, disagreeing with one another, and resolving conflict.
Businesspeople in France, for example, publicly disagree in vibrant and often heated debates. They're not afraid to challenge each other's ideas without jeopardizing their friendship.
On the "Disagreeing scale," France is on the "confrontational" end. People in "avoids-confrontation" countries like Japan believe that conflicts are harmful to group unity.
Some societies encourage people to share their feelings more freely. Emotional expressiveness does not always imply a desire to publicly disagree. Mexicans, for example, are comfortable expressing their emotions but prefer to avoid conflict.
What do these confrontational cultural barriers, or rather differences, mean for you as a small business owner?
Make a few quick changes to your style when dealing with people from non-confrontational cultures. Recognize that your position of authority stifles discussion, so excuse yourself from the meeting and invite the team to present their ideas.
To keep conversations from becoming personal, use flip charts or sticky notes to differentiate people from their ideas.
Invite team members to discuss an idea or plan and present a consensus decision at a meeting.
And as always, be mindful in your interactions. If you don't understand what your actions imply, you won't be able to monitor the signals you send, which can be catastrophic.
Differing mentalities toward scheduling
Every aspect of everyday life is influenced by the "scheduling dimension," or people's relationship with time.
The workday in Germany, one of the first developed countries to have highly organized work, begins exactly on time. In rural Nigeria, however, being able to adapt to the environment is more essential than starting on time.
"Linear time" and "flexible time" are the two extremes of the "Scheduling scale." Staff in linear-time environments and workplaces stick to schedules, meet deadlines, and concentrate on a single job at a time. Workflow is complex in flexible-time societies, routines are adaptable, and many events take place at the same time.
When in doubt, it's sometimes better to just let the other person lead.
Linear-time meetings start on time and stick to a schedule. Other attendees will accuse the speaker of "hijacking" the meeting if he or she brings up a subject that is not on the agenda.
Meetings in flexible-time cultures often deviate from the agenda, and people accept these deviations as normal and essential. Efficient managers actually facilitate effective detours.
What do these scheduling cultural barriers mean for you as a small business owner?
As with all these barriers, you should do a little background research on your international employee's cultures.
Knowing whether they come from a flexible-time or linear-time society is critical in shaping how you approach them about event times.
If they're used to more flexible scheduling than you are, politely inform them that being present at start-times is essential to a productive workflow within your company.
If they're used to more linear scheduling, make sure they're under the expectation that they'll need to loosen up a bit. That they're not being disrespected when other team members arrive late. And that they shouldn't become agitated when a meeting steers away from the agenda.
Source: The Culture Map
Conclusion + Cultural Barriers Recap
What did we learn today? That cultural barriers sneak up on you in the most random spots. The only things more potentially dangerous are these 5 cultural misconceptions that are screwing UP your business interactions.
A quick recap:
The "eight-scale model" at the heart of Erin Meyer's outstanding book, "The Culture Map," can help managers and leaders of culturally diverse teams enhance their effectiveness by providing them with a forum to evaluate the positioning of one culture relative to another and, as a result, correctly decipher the significance of certain acts and gestures.
The following are the eight scales, as well as the two extremes between which Erin Meyer scatters many of the world's countries:
Persuading: principles-first vs. applications-first
Leading: democratic vs. hierarchical
Deciding: consensual vs. top-down
Trusting: task-based vs. relationship-based
Disagreeing: confrontational vs. avoids conflict
Scheduling: linear-time vs. flexible-time
Evaluating: direct negative feedback vs. indirect negative feedback
I didn't touch on the "trusting" scale in this article because it's the least relevant in maximizing your business.
Don't forget!
Since you're here, I'm trusting that you're a boss babe of some sorts. One who would greatly benefit from a guided digital planner for… you guessed it, boss babes!
My Rose Gold Digital Planner Bundle is a businesswoman's saving grace. Any lady who wants to:
get her life together
organize herself
& crush her goals
… will benefit from this planner's personal, financial, tracking, and business pages.
Plus 60 rose gold digital stickers of motivational sayings for boss babes included in the bundle. Just because you deserve it.
Investing in your business starts with investing in yourself.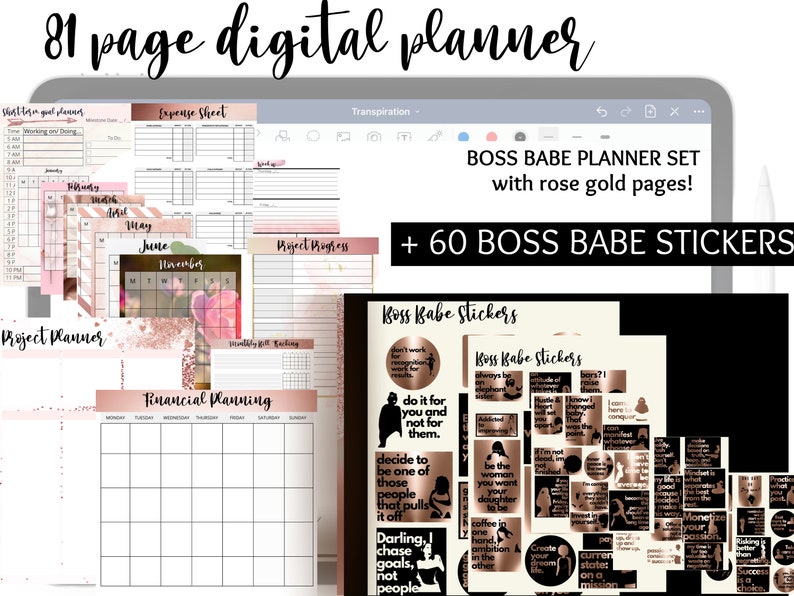 To get a regular dose of business and life advice for culturally woke businesswomen, join my email list.
And there just may be some super cute digital stickers promoting cultural inclusivity in your first email. (wink wink)
Also keep up with me on Instagram. Pinterest, and YouTube! I'll see you around.
Make sure you check out 20 culture quotes that'll make you rethink life!
Have you ever experienced one of these cultural barriers or another cultural barrier in your work experience?
Let me know in the comments!