Reading Time:
7
minutes
Let's talk about digital planners. Including the answers to commonly asked questions like:
What is the best digital planner?
What does a digital planner do?
Should you use a digital planner?
How do you make a digital planner?
First things first, if you're at all familiar with my blog, Instagram. or YouTube, you know that I'm an avid advocate for bullet journals. Heck, I even have a Skillshare course on how to bullet journal for self love and empowerment. (use that link for 2 weeks free!)
Bullet journaling is a transformative practice…but as it turns out, so is digital journaling. Also known as digital planning, or its Etsy-savvy term, a digital planner.
Just like a bullet journal, a digital planner is so versatile, enjoyable, and beautiful that it can be quite a challenge to know how to get started.
And I'll admit, that I originally thought a digital planner sounded strange (don't ask my why, I just did). I honestly thought the only forms of digital planners were apps like Todoist and cloud-based calendars like Google Calendar.
But man, was I wrong.
A digital planner can be exactly like a paper planner or bullet journal. I'm talking identical.
It was the digital planner snapshot below by Plan a Healthy Life that completely sold me on the idea.
I mean, seriously, how nifty is this?
Before the how… Why start a digital planner?
The first obvious advantage to digital planning that stands out to me is the use of photos! It's literally like smashing a scrapbook and planner into one. But that's not it.
Other advantages to keeping a digital planner include:
You can carry it with you wherever (and view it whenever)
Most are multi-platform accessible (phone, iPad, computer, etc…)
You don't have to worry about messy handwriting
You can use any font you like
You don't need a color printer to add ✨aesthetic✨ photos from the internet (which can be a real pain for bullet journal users)
You can keep your planner tab open throughout the day and add to it as needed
Sometimes you can add hyperlinks
You can rearrange and move around elements freely (without messy eraser marks)
If I sound infatuated with digital planners, it's because I sort of am.
If you own an iPad, this is your sign to install Goodnotes, Notability, or OneNote to at least attempt creating a digital planner. Although you can totally plan on other devices, iPads are generally deemed to be the superior digital planning device thanks to their precise writing styluses.
I'm well aware that iPads don't fit into everybody's budget, as one doesn't fit in mine, so the advice in this article is for all devices. (However, you may want to consider saving up for one if you're any form of a content creator!)
The best way to start a digital planner as a bullet journal lover
Without a doubt, free-form digital planning on a blank surface is the best way to get the bullet journal experience on a device. Apps specifically made for planning simply take all the creativity and artsy pizzazz out of the process.
However, very few note-taking apps make the cut for a functional, easy-to-use digital planner.
So I'll take the guesswork out of it for you, and tell which applications are most likely to guarantee your digital planning success.
Goodnotes (a.k.a the #1 app for digital planners)
Why: Goodnotes is literally marketed as a "beautiful, searchable, handwritten" notes-taking app that turns your iPad into digital paper."
This app is rated 4.8 stars in the App Store, and is available on all Apple devices.
Among it's many features, you can:
Move, resize, and rotate your handwriting or change colors
Draw perfect shapes and lines with the Shapes Tool
Choose to erase the entire stroke or only parts of it
And my personal favorite… import images! (including digital stickers)
Let's talk digital stickers right quick
The biggest thing I love about my bullet journal is how self-reflective it is. It's filled with stickers, magazine cutouts, and artwork that reflect who I am. I was afraid that a digital planner would fail to capture that beauty. Etsy proved me wrong.
One search of "digital planner" on Etsy and I got hundreds of thousands of results. 310,137 to be exact.
That proved to me that I, nor anyone else, have to start a digital planner blindly. Furthermore, that showed me just how many totally cute things there are to embellish your digital planner.
There were boho life stickers, undated planner stickers, doodle stickers, foodie stickers, self-love stickers, and so much more.
As an Etsy designer myself, of course, I had to try my own hand at making digital stickers — which led to me also creating a digital planner. My rose gold boss babe digital sticker bundle has 60 stickers of motivational sayings.
Here's my handmade sticker set as it would look in Goodnotes!
Which brings me back to why Goodnotes seems to be the top tier app for starting a digital planner.
It's the app that most creators gear their digital planning creations towards. Most digital planning items listed online come with a Goodnotes files that make for an instant, seamless import into Goodnotes.
Digital stickers keep thing colorful, simple, and self-reflective all while allowing you to support small businesses.
That being said, digital stickers can totally be used in other note-taking digital planning apps. All my did digital stickers sold on Etsy come with pre-cropped PNG files for easy use in any note-taking app, as do most other listings. So definitely consider some of the other apps as well.
My all-time favorite (free!) course on familiarizing yourself with digital bullet journaling: Digital Bullet Journaling on the iPad + FREE assets (papers, images, etc!).
Notability
Why: Notability is easily one of the most popular Apple note-taking applications. It's marketed for its unlimited potential in allowing users to "capture their thoughts".
It's most notable (pun intended) features allow users to:
Combine handwriting, photos and typing in a single note to bring projects to life
Use a wide range of note-taking and sketching tools to capture every detail
Add and annotate PDFs
Create and organize work, school, and life's information
This isn't a comparison article so I won't be talking pros and cons compared to Goodnotes. I'm merely here to tell you your options.
If you search on Etsy for digital planner finds, you'll typically notice that Notability is mentioned right after Goodnotes in terms of compatibility. So this application is definitely a safe bet for starting a digital planner.
Noteshelf
Why: Noteshelf has one glaring advantage over both Goodnotes and Notability. It's available for Android users. Meaning that Noteshelf is the app to go with if you don't have an Apple device.
Even if you do have an Apple device, Noteshelf is a solid competitor that should be considered. Particularly if you're a student or professional also looking for a simple way to take digital notes.
Noteshelf users are able to:
Take Notes
Record Audio
Markup PDFs
Add Photos
Draw Perfect Shapes
Add Covers & Templates
Fill forms
Sign contracts,
Highlight your notes
For Apple Watch users, you can even create voice notes with Noteshelf for the Apple Watch. Then you can take notes later as you listen to those recordings.
OneNote
Why: Although Noteshelf is available for Windows users, Microsoft OneNote was made for Windows users. Everything is saved to the cloud and you can access OneNote from all your devices.
It even allows multiple users to collaborate on notes, which can honestly be great for making sure you and your hubby or kids are on the same page about upcoming plans.
OneNote doesn't have handwriting functionality, but it's still great app for those not looking to super super artsy with their planner.
It's extremely organized and allows you to create hyperlinks to different tabs.
You can also record audio notes, insert online videos, and add files. You may not have the most doodle-heavy or "exciting" digital planner, but you'll definitely have an organized one.
KeyNote
Why: The Keynote application, which is available through Apple, can be also used for digital planning.
This app is completely free to access and is very flexible since it can be used on any Apple device. It also provides Apple Pencil compatibility, allowing users to doodle and sketch as much as they want!
To get started, simply visit Apple's website and create an Apple ID. Create your own presentation and provide hyperlinks to each tab for quick access.
For a guided digital planner…
It's time to either head to Pinterest or Etsy! As a newbie to digital planning, your best bet is a guided digital planner.
With pages already made for you to fill in, you won't have to worry about building your planner from the ground up. Plus you'll be able to focus more on getting creative with your planner.
Most digital planners are pretty cheap and of great quality. Including this rose gold-themed boss babe digital planner! This planner was carefully crafted by yours truly.
It contains 81 pages that are absolutely perfect for boss babes, businesswomen, and entrepreneurs. Pages include:
Weekly spreads
Monthly Spreads
Financial Trackers
Goal Trackers
Business pages
Personal pages (water log, fitness tracker, self care, etc.)
And more!
You won't be disappointed. Use code CULTUREDSIMPLICITY20 for 20% off. Nobody else but this article's readers has access to that code so… be excited!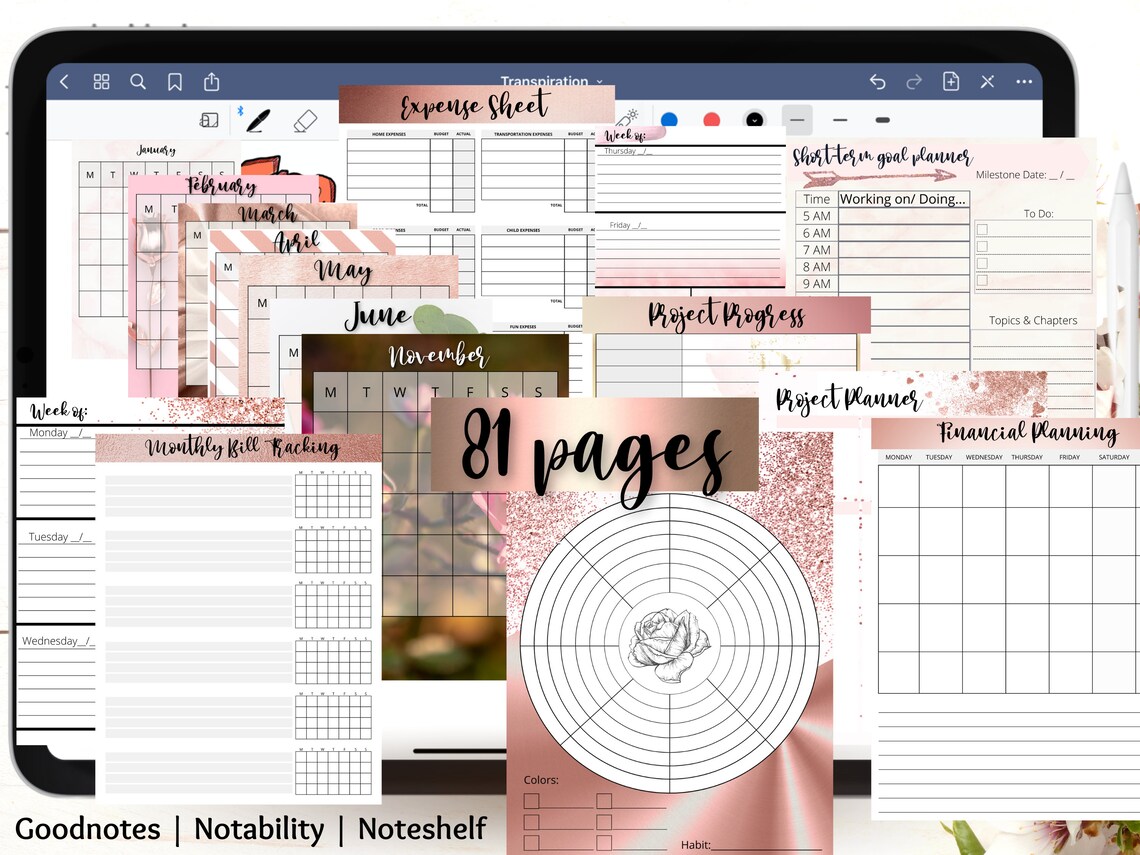 That being said, email subscribers are typically the first among the CS family to get exclusive goodies. And if you want some free digital stickers for your planner (that can also be print and cut if need be), sign up for my list! We'd love to have you.
Expect lots of content in the upcoming months promoting boss babe living and cultural inclusivity. I post about once (or twice) a month on this blog, so subscribe on YouTube for more frequent content!